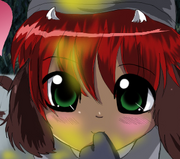 Information
Edit
Name: Kyonoth Dennis Kaiba
Alias: Kyo Kaiba
Age: 22 Height: 4'9"
Weight: 119 lbs.
Sexuality: Homosexual
Marital Status: Single (divorced)
Description: Kyo has always been the underdog of anyone he meets. He's an adult, but he can pass up as a child according to his appearance. Right now, he's friends with Ronnie and seem like a little sidekick to the Beer Wonder. Little is known about how he has horns (and dog ears w/ tail) and his relation with Hazel.
Kyo used to be a teacher in another collaboration comic. Unknown about it in Character House.
Kyo's a vegetarian yet he has spoke of this. It'll be revealed later on.
The dog that would most likely represent Kyo would be an English Toy Spaniel.