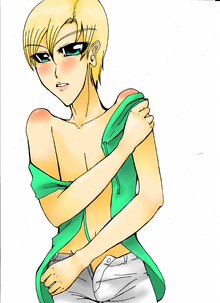 Kirenaki Tsune is a 16 year old (present day) human male.
Personal Details
Edit
Age: 16
Gender: Male
Likes: Coffee (if it has at least three teaspoons of sugar), tiramisu, sushi and milk (whether flavored or not).
Hates: Annoying people, when things don't go his way and things that are very sour.
Profile: #180 - Kirenaki Tsune
Debut: ---
Appearance
Edit
Kirenaki is a fair-haired teenager. He wears a green sweatshirt and white jeans.
Personality
Edit
His personality is complex and he is very moody. He makes it clear that he is bi (leaning towards boys).
---
---
If you add 'i' to 'kire' it becomes "kirei na kitsune" which means "pretty fox".